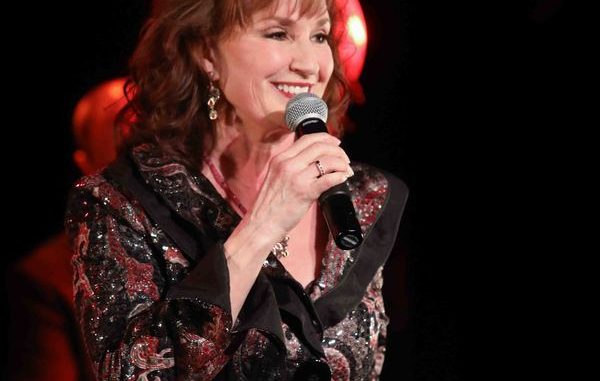 Photo Coverage: Raissa Katona Bennett – Back To Her Future at The Laurie Beechman Theatre
by Stephen Sorokoff Apr. 27, 2018  
It was January 25 2011 and Raissa Katona Bennett brought her new show, exploring the music of Jerome Kern to Feinstein's at The Regency Hotel. It got rave reviews from the critics at that time. Amazingly looking and sounding even better, Raissa returned to the cabaret stage last night at The Laurie Beechman Theatre's West Bank Cafe' and Broadwayworld was there. Check out the photos.
Her Kern show originally and currently directed by Eric Michael Gillett, had Jon Weber on piano and Tom Hubbard on bass this time around. The evening reminded the audience of the voice that performed the role of Christine on Broadway in "Phantom of the Opera", and was in the first national tour of "Cats". What Stephen Holden said about Raissa in 2011 still rings true, "A tart tongued commentator on modern life…her theatrical soprano…is an effective vehicle for witty story telling."
The future………This spring Katona Bennett made her Music Theatre of Connecticut debut as "Helen" in the Tony Award winning musical, FUN HOME. The production, the very first professional regional theatre production in New England, opened on April 20th in Katona Bennett's hometown of Norwalk, Connecticut.
Can't Help Singing- The Music of Jerome Kern was recorded live at Feinstein's at the Regency and everyone in the audience received (no not Vinyl) a re-release of the original CD.
You Can't Help but Catch This Show again at The West Bank Cafe on May 3.
LINK TO REVIEW: https://www.broadwayworld.com/cabaret/article/Photo-Coverage-Raissa-Katona-Bennett-Back-To-Her-Future-at-The-Laurie-Beechman-Theatre-20180427
Copy & Photos by: Stephen Sorokoff
Raissa Katona Bennett

Raissa Katona Bennett

Raissa Katona Bennett & Jon Weber

Raissa Katona Bennett

Jon Weber

Raissa Katona Bennett

Jon Weber & Raissa Katona Bennett

West Bank Cafe

Raissa Katona Bennett & Kenny Bell

Raissa Katona Bennett & Eda Sorokoff

KT Sullivan & Stephen Sorokoff

Raissa Katona Bennett & Karen Oberlin

Joe Iconis, Lauren Marcus, Eda Sorokoff

2011 Feinstein's at The Regency Raissa Katona Bennett, David Friedman, Lucie Arnaz

2011 Feinstein's at The Regency Eda Sorokoff & Karen Oberlin

2011 Feinstein's at The Regency Eda Sorokoff, Lucie Arnaz, Jamie deRoy